Delray Beach's
Best Commercial Metal Roofing Contractors
Whenever you have a new task in your hands for your property, you need to make sure you are hiring experts and the right professionals for it. Many homeowners and business owners as well, believe they can handle the tasks of repairing some parts and elements of their properties without thinking about the consequences of doing so. After all, many problems or repairs involve the right equipment and experience to guarantee the best results. And the same applies to new projects that you might have in mind.
Why are we telling you all this? Because we are certain that many property owners always try to do things on their own and end up not only hiring professionals anyway but also spending more money and time. In our company, Metro Metal Roofing Company of Delray Beach, we have helped to fix several commercial buildings with roofs that are poorly installed or repaired. This is quite common in Palm Beach County since we also understand it is not easy to find reliable and experienced companies in the roofing industry. Especially when you have a metal roof installed that although is easier to handle and maintain compared to others, still requires expertise to guarantee nothing will be damaged in the process.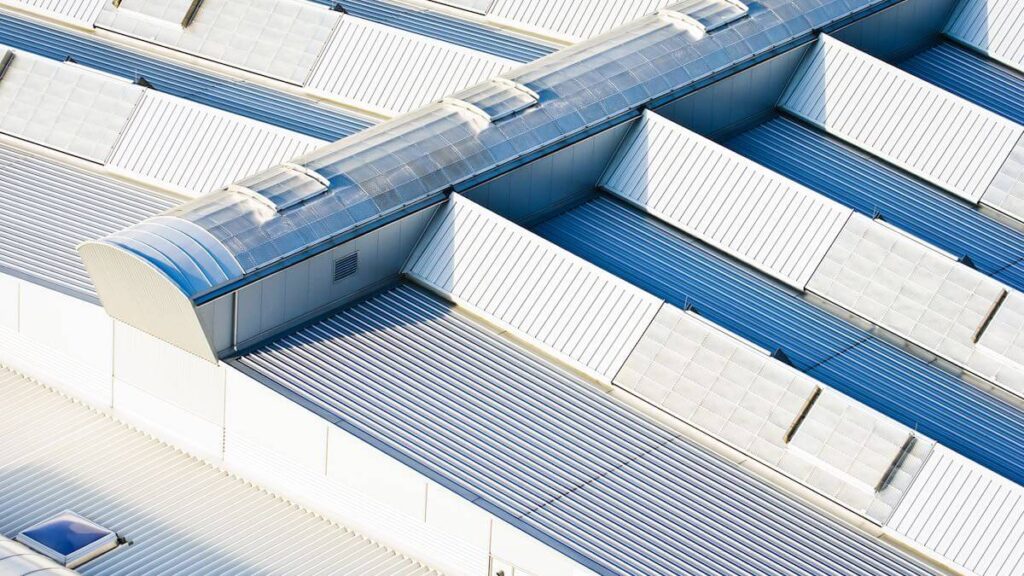 Our company is very known among commercial owners due to how popular metal roofs are for restaurants, factories, industries, and more. You might have noticed this since it is not new that business owners tend to install metal roofs for reasons like saving money, obtain durable and long-lasting results, and rest assured their belongings and goods will be safe. If you are someone with a commercial building in the area, you should definitely consider installing a metal roof as well.
Unlike other roofing systems available in the market, panels, and shingles—even tiles—made of metal can promise you durability and longevity that is much better than any other. Metal roofs tend to last for around 50 to 70 years with proper maintenance performed periodically—just like any other roof. However, when you compare them with clay, slate, and other materials, you notice there is a huge difference in how long they can last.
The average lifetime of a roof made with the materials previously mentioned is from 20 to 30 years, or even less. When you own a property, you always want to go for the options that promise you a lot of time in terms of durability, or you will end up spending too much money long-term. That being said, we understand why some businesses hesitate to install a metal roof. They are not known as aesthetics or attractive roofs, and this is due to all the commercial owners that did not take the time to consider the appearance and just went for the basic and simple industrial style. Which is usually the bare material and panel without any additions, paint, or even coating in several cases.
However, what if we tell you it is possible to obtain a better result in terms of appearance that can look stunning just like any other roofing system you had in mind? It is all about seeing it before anything else, and we will make sure to show and explain to you how it is possible.
Metal roofs for commercial buildings: what you need to know
First, let's start with the most popular benefits of each metal roofing system: durability and longevity. Since any metal you decide to use for your panels, shingles, or tiles is impossible to crack or shrink like other materials such as clay and concrete, you do not have to worry about being way too careful with them. Instead, you get the chance to care a bit less about the damage your roof can receive, and thanks to the nature of all the metals you can use—aluminum, zinc, steel, and copper—, you can expect damage to be minimal with some exceptions.
Now, although rust and corrosion are the two main problems known for every property owner that has the basic knowledge about metal roofs, and what makes them worry about installing it or not at the end of the day. Fortunately, this can be solved with the right coating layer and paint in order to guarantee the best results in the short and long-term.
Since metal roofs will not have those two problems like before while you apply the coating and make sure to do it again during every maintenance or when it starts to show some signs of rust, you can relax and enjoy your roof for decades. After all, what else is there to worry about besides external damage from an unknown source or normal corrosion? Nothing else in our opinion and experience. As for the aesthetic part, you are wondering, you can get your panels, shingles, or tiles painted in the color you choose and get a different design according to the material you decide to use.
Steel is the most common one used among commercial metal roofs, but aluminum is also quite affordable among all the options and guarantees better salt-water resistance when compared with the rest. That being said, you can also add textures, details, and some additional elements according to the style you are trying to obtain. It is not going to be simple, but it is worth the trouble when you think about how long it will last and boost your property's aesthetics.
Just make sure to contact us at Metro Metal Roofing Company of Delray Beach in order to guarantee the best installation and future services you will need to maintain your roof. We can work around your preferences and needs to find the right roofing system, or help you to deal with the problems you are facing with the one you have installed. Whatever it is, rest assured we will be there for you and our team is going to be at your property within a few minutes or hours at most after you reach out to us for our services.
Time to Replace Your Roof? We Can Help
---
Considering roofing replacement? When it comes to roofing projects, many homeowners rely on professionals to get the job done. At Metro Metal Roofing Company of Delray Beach, our specialists stick to all the industry standards when installing metal roofing on both residential and commercial properties. Therefore, you can be sure of getting a sturdy roof on top of your house. As a result, you can get the best services from our company in the following fields;
What Locations do we Serve?
---
Metro Metal Roofing Company of Delray Beach is a name you can trust and rely on. Our metal roofing services were limited in Delray Beach, FL when we started. But with time our company has expanded and is now serving over ten locations within Florida.
It shows how reliable we are. Here are some places within Florida, where you can access our world-class metal roofing services: –