Delray Beach's
#1 Residential Metal Roofing Contractors
Our home is not only the place we can relax and think about everything we did during the day; it is also our space to get creative sometimes. If you ask me about what my home is for me, I would say it is the right place to obtain what I want and be happy with it 24 hours a day. To give you a better example of what I am trying to tell you, let's make it simple.
When you get home and have a look at your surroundings, do you like everything you see? From your floors to the furniture in the living room and then, your kitchen. If you answer with a 'no', that already means there is a problem with the design you have and although it can be something small, you are not 100% happy about how your home looks like. Now, imagine that maybe it is indeed something relevant in the property that makes you think, 'I want to move out'.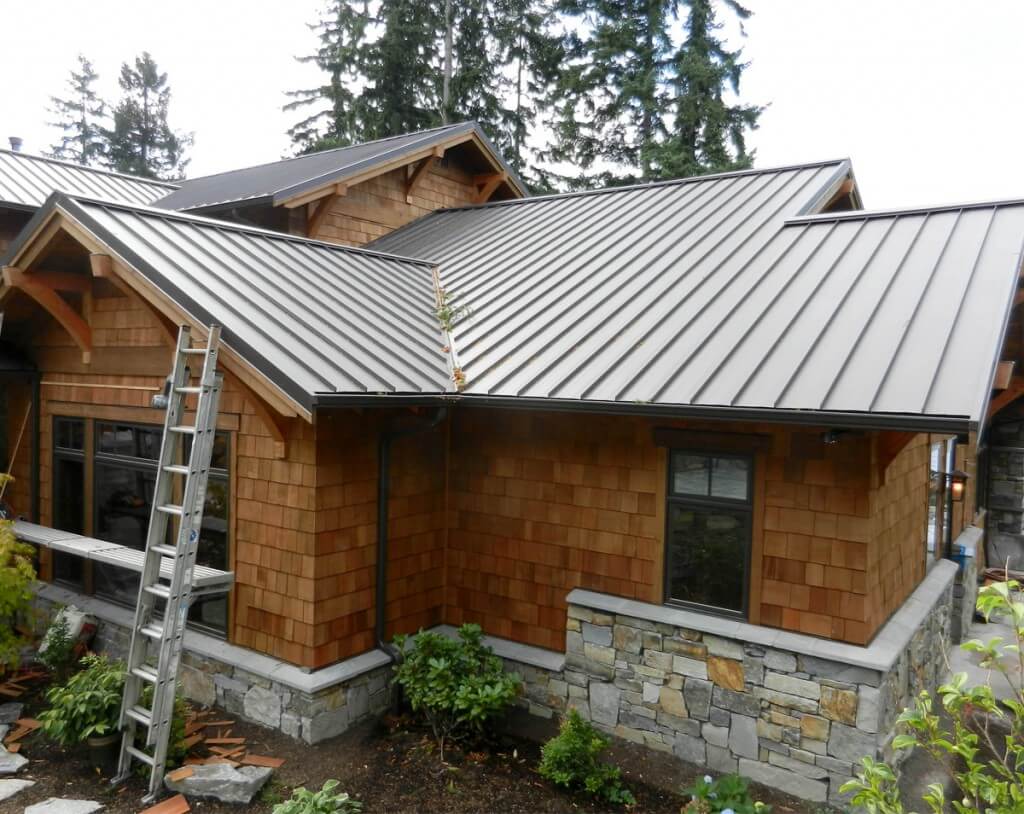 For example, your roofing system that plays such an important role not only in the design and aesthetic of the property but also in functionality. After all, there is not a property without a good roof. If you have some problems or issues with your roofing system or maybe you just want to go for another one that can offer everything you want and still meet your needs, consider metal roofs as your first options. It is strange to recommend metal roofs for a home or residential building, but have you ever stopped for a second and thought about why commercial buildings have them installed when there are more options?
The main reason is that metal roofs are durable. They can guarantee an amazing performance no matter the specific material or system you use. And with this durability, longevity is just a step behind. Metal roofing is an amazing option if you are trying to obtain a roof that can last for decades, help you to protect everything inside the property, and still be able to make it look stunning as well. The aesthetic element is what makes homeowners hesitate to go for this option and it is due to the industrial and plain designs they have seen only. Well, we are sure those are not the only metal roofs you have seen installed, you just did not know that others were part of those systems as well.
You can obtain very similar results to slate, clay, and tiles when choosing the right metal roofing system and materials for it. Actually, you can say metal roofs are amazing in imitating other systems, and in the long-term, they end up being even better thanks to how long they can last and resist compared to any other option in the market. Therefore, what is stopping you from installing one in your home? You will not regret it but if you are planning to do it, make sure the experts handling the project are actually capable of delivering good results.
The installation plays an important role in how long the roof is able to last and resist over the years. You can have the best materials and tools, but without the right hands using them, there is no way you will be able to enjoy your metal roofs as you should. This is why we encourage you to contact us at Metro Metal Roofing Company of Delray Beach.
Our company has been in the metal roofing industry for over 19 years, and we assure you every single one of our roofers and professionals is experienced and well-trained to install your roof or perform any other service. The best part about working with us is that we will instruct you in everything about this industry that is related to what you are trying to obtain from all this.
For example, what is the best roofing system for your home or structure? How can you obtain the design with the options available in the market? Is that metal roof you want the best for the climate in the city?
We will answer all these questions with not only 'yes' or 'no' but also by showing you the proofs of why we are certain of our answers. That being said, are you ready for your metal roof? Here are a few things you must know before starting:
Repairs and maintenances are necessary. 
Although those roofing systems are more durable and long-lasting compared to other options, they still need attention and care. This means you need to keep in mind that repairs are inevitable, at least, small ones over the years. And the same goes for maintenance.
In order to guarantee that your metal roof's performance will not disappoint and return your investment, make sure to not forget about the maintenance from time to time. It is not necessary to do it every month or even year, but keep an eye on it and make sure to schedule one with us when it has been a while since the last one.
Make sure to go for the right materials and additions. 
Choosing the right metal for the panels, shingles, or tiles you will install is more complicated than it seems. You need to keep in mind the design you want, the climate in the city or place you live, and your budget. Some materials, like aluminum, work better with residential buildings located near the coast thanks to the salt-water corrosion resistance it offers. 
But if you want to bet for another material and roofing system, it is completely valid. Just keep in mind the performance can be better or regular depending on what you choose. As for the additions, the coating, paint, and elements to add texture need to be of high-quality and guarantee the durability and longevity of the roof. Otherwise, you will suffer from common rust or corrosion when both can be easily prevented.
With us, you will not have to worry about going through the first installation, which is important to prevent serious repairs to take place in the future. Thanks to our contractors, you will have nothing more but a well-placed roofing system.
As for other services for your residential metal roof, just make sure to contact us and we will give you more information depending on your needs and problems.
Time to Replace Your Roof? We Can Help
---
Considering roofing replacement? When it comes to roofing projects, many homeowners rely on professionals to get the job done. At Metro Metal Roofing Company of Delray Beach, our specialists stick to all the industry standards when installing metal roofing on both residential and commercial properties. Therefore, you can be sure of getting a sturdy roof on top of your house. As a result, you can get the best services from our company in the following fields;
What Locations do we Serve?
---
Metro Metal Roofing Company of Delray Beach is a name you can trust and rely on. Our metal roofing services were limited in Delray Beach, FL when we started. But with time our company has expanded and is now serving over ten locations within Florida.
It shows how reliable we are. Here are some places within Florida, where you can access our world-class metal roofing services: –