Delray Beach's
Corrugated Metal Roof Contractors & Installers
People that hear or read about metal roofs usually think about the industrial designs they can see on commercial properties most of the time. There is a simple and general style everyone knows about them and we understand why: metal roofs are known as commercial roofs after all. Since many commercial property owners do not care too much about the aesthetic element when they decide to install a metal roof, it is common to see dull and plain designs.
As a result, not many people consider this roofing system as an option for businesses that are open to the public or their homes and residential buildings. However, you are just used to know about the 'general' appearance of metal roofs when there is much more to them than just this simple design. To begin with, we do not have to go too far and mention other metal roofing systems available, we can take the one you have seen all this time as the best example.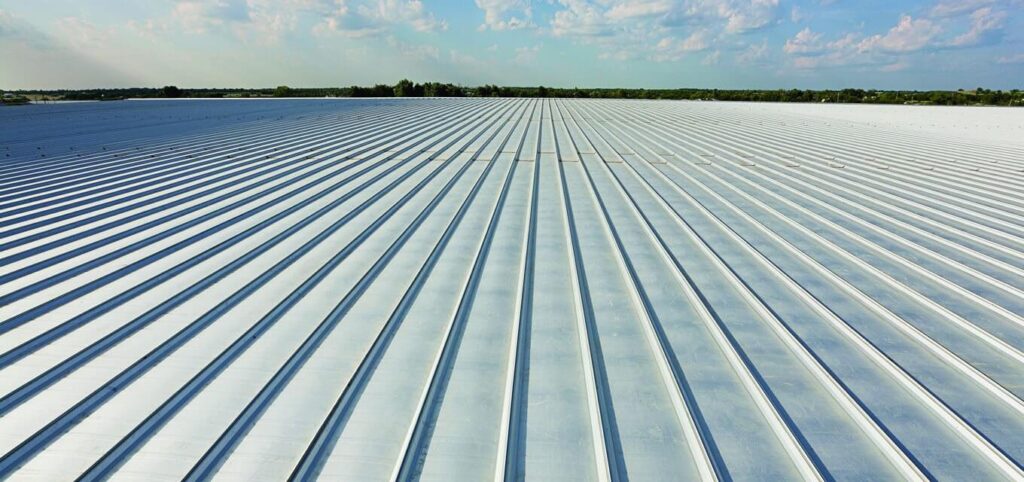 Corrugated metal roofs are the ones you usually see at those commercial buildings, and we are sure that most of them are gray with some details. Well, what about you taking the same panels and turning them into another color? Maybe, red? You know that will look much better. What we are trying to tell you with this simple example is that you can get more designs and styles with the right choices and additional elements to the roof.
Most of the properties where you see them installed have a plain and bare panel or shingle, which means there is no paint or another element that can add some aesthetic boost to the roof. But when you put this idea aside and evaluate all the possible options and get creative about them, you can get not only a stunning corrugated metal roof for your home and business. You will also have one that can last much longer than any other roofing system. To make this decision and the entire project possible, you need to instruct yourself about how corrugated metal can be the solution to your problems and needs.
Our company Metro Metal Roofing Company of Delray Beach will help you with every step in the process, starting with giving you some information about this popular metal roof in Palm Beach County.
What is there to love about corrugated metal roof panels?
As a property owner myself, I understand that everyone wants to save as much money as possible and be able to obtain good results in terms of quality, performance, and appearance. Therefore, looking for a roof that can offer you almost everything without spending a fortune is the top mission on the list.
Corrugated metal is the best option you will find without a doubt since we just described what it offers. Metal roofs in general are known for being low-cost, durable, and long-lasting. While you can expect 15 to 25 years from other roofing systems, this one can easily last 2 or 3 decades more than usual. Here is when you also start to understand why many commercial owners decide to go for it: because they invest less for more in the end.
That being said, you will have a roof that will promise an outstanding performance against rain, sun, and snow without presenting any issues. There is always a chance that it will get damaged and some repairs will be necessary. But overall, repairing a corrugated metal roof is not common since its resistance to fire and any type of weather is top-notch.
Now, you are guaranteed to get 85% of the investment you made in your property over the years, and it will be sooner than later. After all, you will barely spend on repairs and maintenance. And since corrugated metal can reflect heat and help to cool down the property, you will have a roof that provides energy-efficiency in every possible way. As you can see, there is a lot to love about this option, and you should stop thinking about styles and profiles for a moment.
However, we understand, you need to be happy with the design of the property like everyone else—we included. Therefore, let's focus on this element from here onwards. The structure of each corrugated panel is more rigid and provides dimensional stability along with structural integrity. The shape of the panels due to their characteristic feature allows you to have more than a plain and simple design that comes from the panels themselves instead of another addition. When you combine this with the right paint, coating, and maybe a layer of some element you like—which is usually not required due to the style you can get with the corrugated panel alone—, you will have a stunning roof in your home or business.
Just make sure that you have the best contractors and roofers handling the entire installation to ensure you are able to enjoy the roof for all those years without serious issues. Our company will do this for you and more, and rest assured that maintenance and repairs will not give you a hard time in the future thanks to our first-time installation that will save money and time.
Besides, corrugated metal roofs made of aluminum, zinc, copper, and steel—any of the available materials—are resistant to cracking, shrinking, and eroding. And all of them are amazing against rust and corrosion. The most used one for residential buildings is galvanized steel, but you can also go for aluminum when living on the coast thanks to its salt-water corrosion resistance feature. Whatever you choose or need for your new or maybe already existing corrugated roof, you can find it in our company.
Our roofers will make sure to leave you satisfied with our services and guarantee the best attention and experience. Just make sure to let us know what you have in mind or need and we will take care of everything right away and without problems.
Time to Replace Your Roof? We Can Help
---
Considering roofing replacement? When it comes to roofing projects, many homeowners rely on professionals to get the job done. At Metro Metal Roofing Company of Delray Beach, our specialists stick to all the industry standards when installing metal roofing on both residential and commercial properties. Therefore, you can be sure of getting a sturdy roof on top of your house. As a result, you can get the best services from our company in the following fields;
What Locations do we Serve?
---
Metro Metal Roofing Company of Delray Beach is a name you can trust and rely on. Our metal roofing services were limited in Delray Beach, FL when we started. But with time our company has expanded and is now serving over ten locations within Florida.
It shows how reliable we are. Here are some places within Florida, where you can access our world-class metal roofing services: –