Delray Beach's
Standing Seam Metal Roof Installation Team
It is not easy to have a positive opinion about metal roofs when you have only seen them in commercial buildings and some farms or properties that are not too common in terms of designs and aesthetics. Therefore, if you are here very confused about what you should expect from them we can tell you it only takes to open your mind.
Metal roofs are promising in many ways. Durability, longevity, designs, profiles, colors, and anything that comes to your mind. It is hard to imagine this when you are so used to looking at properties with them and know they look dull or plain. However, we are sure those properties are only those where you can recognize the metal roof and completely ignore that other homes or commercial buildings do not have the roofing system you always thought.
Instead, they just have a polished metal roof installed and this means they took the time to think about the aesthetic element and options. That being said, if you are someone who is trying to go for a new roof and obtain a specific result that is quite inclined to traditional styles, you can have a metal roof as an option. You just need to choose the right type among the options available.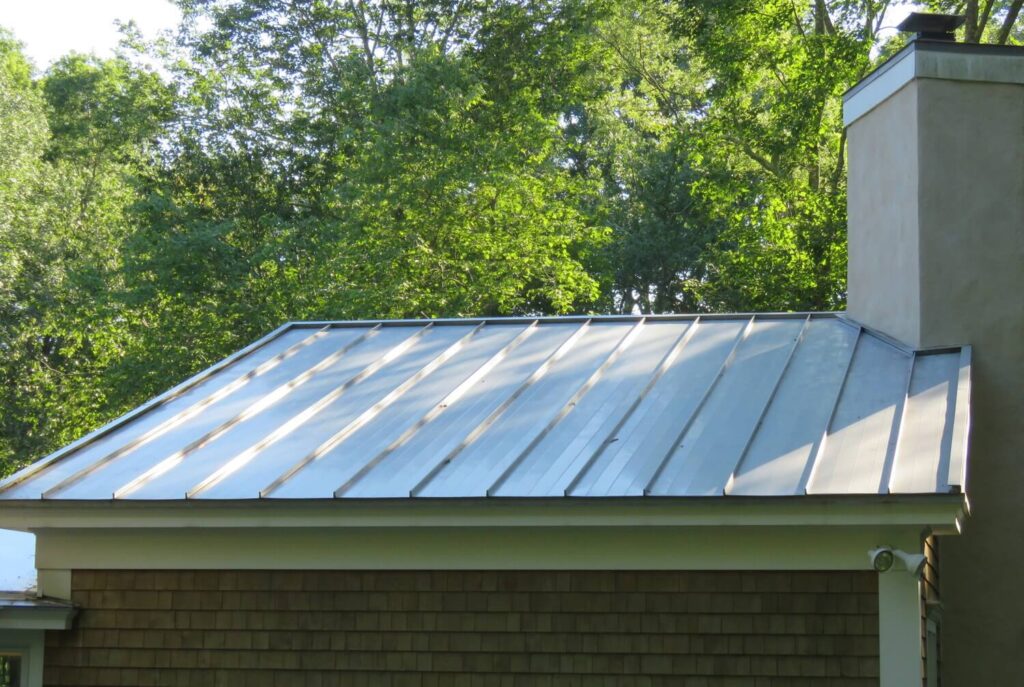 Standing seam is a very popular metal roof among commercial buildings due to its main feature, the raised interlocking seam that joins every panel when you are installing them. This is usually the one you see at barns or similar places. However, with the right paint, coating, and making sure you polish it, you can obtain a traditional and clean result that will look nothing else but stunning. Now, why would you choose this metal roof instead of other options that can maybe offer the same results?
In terms of looks and designs, every roofing system indeed has competence. But you need to consider more elements that go beyond the appearance of the roof and the final design. For example, is the roofing system durable or long-lasting? How does it stand fire, water, and any weather condition?
If you go for an option that only gives you the design you want but does not fit your needs in terms of functionality, you will have to change it sooner than later. And this only means more time and more spent. Standing seam offers amazing performance, designs, and durability and longevity are the main strengths of this roof. You can easily have it for over 50 years and with only some maintenance performed once a year or every two years depending on the damage in the roof and how the experts have been helping you to keep it neat and durable.
How can you be sure that your standing seam will meet all your needs and preferences?
Whenever you go for a new roofing option, keep in mind that many elements and aspects are involved in the final result and how it develops over the years. Many people tend to review and judge the roof saying it is awful without knowing what actually went wrong with it. So, here it goes what you need to consider and think about.
First, the materials you are using. More than the metal you decide to use for your standing seam panels—aluminum, steel, copper, or zinc—, it is about the brand and the supplier of those. Just like in any other industry, you have many options available when it comes to obtaining the elements you require for the project.
If you get your hands in panels that are made with poor metal and by someone who is not exactly a good manufacturer, your roof will have problems before even installing it. Therefore, make sure you are accessing high-quality materials not only when it comes to panels but also coating, paint, and more. Next, you have to consider the people who are performing the installation.
Performing a top installation is what will determine part of the future repairs and problems you will face with the roof. This is why you need to choose wisely your roofers and experts in charge of the task. At Metro Metal Roofing Company of Delray Beach, we will make sure to perform the best first-time installation that will leave a standing seam metal roof in your property without any details and just looking stunning as it should.
Regarding the previous aspect, we make sure to provide the materials and tools you and we will need for the project. And every material we use is only high-quality. Now, moving onto the final aspects to consider, there are the price, efficiency, and designs of the roof. We already mentioned that standing seam is perfect for traditional designs and styles, and we will stick to this. When it comes to price, the cost of the panels can be a bit higher than other options but the investment will be worth it with the years of use you will get.
You will be able to save energy and obtain over 80% in ROI. Therefore, when you end up paying a few more dollars for the entire installation and materials, think about how you will not have to worry about the next decades and the money you will see in return without problems. Besides, our company will make sure to work around your budget and offer options that are affordable and still meet your preferences and needs.
Since you know all this, there is nothing more we can tell you but just to remember you to contact us. If you are not interested in installation but rather in some services that come after it and several years, like repairs or maintenance, you can count on us and our experts. We will deal with your problems and every issue your standing seam shows over the years. Just make sure to contact us as soon as possible to start your project right away or deal with the repairs and more before they get any worse.
Time to Replace Your Roof? We Can Help
---
Considering roofing replacement? When it comes to roofing projects, many homeowners rely on professionals to get the job done. At Metro Metal Roofing Company of Delray Beach, our specialists stick to all the industry standards when installing metal roofing on both residential and commercial properties. Therefore, you can be sure of getting a sturdy roof on top of your house. As a result, you can get the best services from our company in the following fields;
What Locations do we Serve?
---
Metro Metal Roofing Company of Delray Beach is a name you can trust and rely on. Our metal roofing services were limited in Delray Beach, FL when we started. But with time our company has expanded and is now serving over ten locations within Florida.
It shows how reliable we are. Here are some places within Florida, where you can access our world-class metal roofing services: –