Delray Beach's
Metal Roof Repair - FREE Inspection & Quote
When you think about the things you have to repair in your property, do you actually think about your roof in those moments? Many property owners ignore the fact that their roofs need some attention until they start having problems with them. Like leaks, holes, and many other obvious details that require repairs and maintenance. This is the mistake that leads everyone to think their roofs are awful or were not installed properly.
The truth is, you need to pay attention in the future and make sure to perform some maintenance not every day or month, but at least once a year or when you feel it has been a while and the roof has received some damage. Otherwise, you will end up with an awful roof that cannot be repaired no matter what you do, and this applies to roof systems as resistant as metal roofs. Metal roofs are known for being durable and long-lasting thanks to the missing problems like cracks and shrinks that other materials bring with them and their installation.
However, people believe that it is hard to damage a metal roof and this is true but that does not mean it is impossible. As a result, you will see many of them complaining about going for the right choice at the moment of installing the roofing system. Well, you might think they are right if you are here, but we can tell you a million reasons why you are the one with a huge part of the responsibility.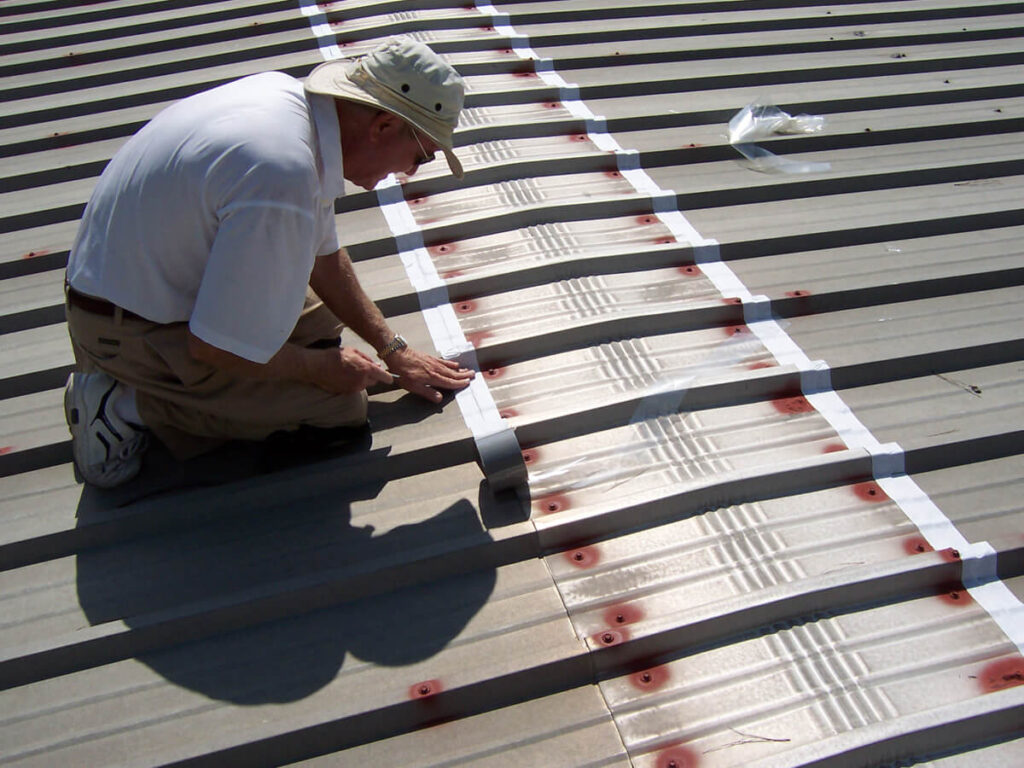 First, metal roofs are prone to corrosion and rust, and even when both can be prevented with coating and the right paint, it does not mean you should forget about them. If you want to keep it free of rust, for example, you need to apply a new coating layer every few years. The frequency depends on the quality of the coating you are using and it was applied properly but in general terms, you need to focus on dedicating enough time to those aspects.
Now, if you think that other roofing systems do not need this attention, you are right, they don't. But they will come with many other problems and elements to take care of besides rust, and we assure you they will be more problematic in the long-term. Therefore, if you have a metal roof installed, no matter the material you chose for the panels, shingles, or tiles, make sure you contact us for any repair you require as soon as you notice it. Or for maintenance and inspections in order to determine if your roof's performance and the condition is perfectly fine.
Our company Metro Metal Roofing Company of Delray Beach will handle the entire task of identifying the problem and find solutions. This means that it does not matter the repair process you end up needing, we will handle it without problems.
What repairs can we take care of?
When you think about repairs, it is a good option to classify them depending on how serious or not they are. Most of the repairs performed on a metal roof are due to the time it has been installed, the damage received from unknown or external sources, and the maintenance performed over the years. Those repairs are usually small and can be handled within a day or two at most.
Like placing new fasteners, stopping rust by applying a new coating or paint layer, putting some nails back in place, covering some holes, and stopping leaks. When you have experts that also know how to handle everything without hesitation, things get quite easier. Now, when it comes to the repairs that can give you headaches, many of them are caused due to poor installation.
The first-time installation of metal roofs is crucial just like any other roofing system. When you do not do it correctly, there is a high probability of facing problems like a gutter in the walls, some filtrations, panels separated, and more. All this usually leads to replacing some panels or parts of the roof, having to open walls, and even reinstall the entire roof. And let's not go to the re-roofing, retrofitting, or replacing options that are inevitable sometimes.
You do not want to deal with those but if you ever get into this situation, you can contact us. Our company has experience with every possible repair your roof might need, and this is thanks to all our years in the industry. For every repair, we make sure to send the most suitable professionals and contractors in order to deal with it in no time and you get to enjoy your property again within a few hours.
However, keep in mind that problems like the ones we mentioned before—filtrations, replacements, and more—will take much more time. This is why you need to be prepared for everything and let our team do its work for them to finish as soon as possible. Now, how will we know the repairs required?
Every time a property owner contacts us to ask for this service, we make clear the need of performing an inspection. One is always required when a project or service is about to take place but for repairs, they are definitely mandatory. After all, we are dealing with a roof that can have many other problems that you nor us know about. And since safety is always first no matter what, we need to make sure we know the real condition of the roof before performing any repair.
So, keep this in mind all the time and do not worry, our inspections are completely free. If you need our repair services or want us to perform an inspection before anything else, you can always contact us and ask for more information. We have some details about our free inspections on our website, so you are welcome to have a look at it. As for the rest, let us determine what your real problem is and deal with it for you.
Time to Replace Your Roof? We Can Help
---
Considering roofing replacement? When it comes to roofing projects, many homeowners rely on professionals to get the job done. At Metro Metal Roofing Company of Delray Beach, our specialists stick to all the industry standards when installing metal roofing on both residential and commercial properties. Therefore, you can be sure of getting a sturdy roof on top of your house. As a result, you can get the best services from our company in the following fields;
What Locations do we Serve?
---
Metro Metal Roofing Company of Delray Beach is a name you can trust and rely on. Our metal roofing services were limited in Delray Beach, FL when we started. But with time our company has expanded and is now serving over ten locations within Florida.
It shows how reliable we are. Here are some places within Florida, where you can access our world-class metal roofing services: –