Delray Beach's
Metal Tile Roof - Best Roofing Contractors
No one would think that the stunning property next to yours has a metal tile roof installed instead of a clay or slate one. We are sure that you even though it was anything but metal. Now, how is it possible since there is something unique about tile roofs that make people love them without a doubt?
Well, metal roofing systems are amazing in imitating other options in the market, and the best part is that they are even better than the original ones. In the case of tiles, most people tend to think about clay or concrete for both their homes and commercial buildings. The problem with choosing those options is that you usually face problems like cracking, shrinking, splitting, and many other usual situations with those types of materials.
Also, clay tile roofs or any other similar to it, do not offer many years of use, and repairs are constantly required to guarantee the neat design of the roof. Knowing all this, why people would continue going for them? Because we have to agree with the fact that they look amazing. But taking this idea to the main topic, metal tiles, you will notice it is possible to obtain the same result and better without having to think about all these problems and possibilities.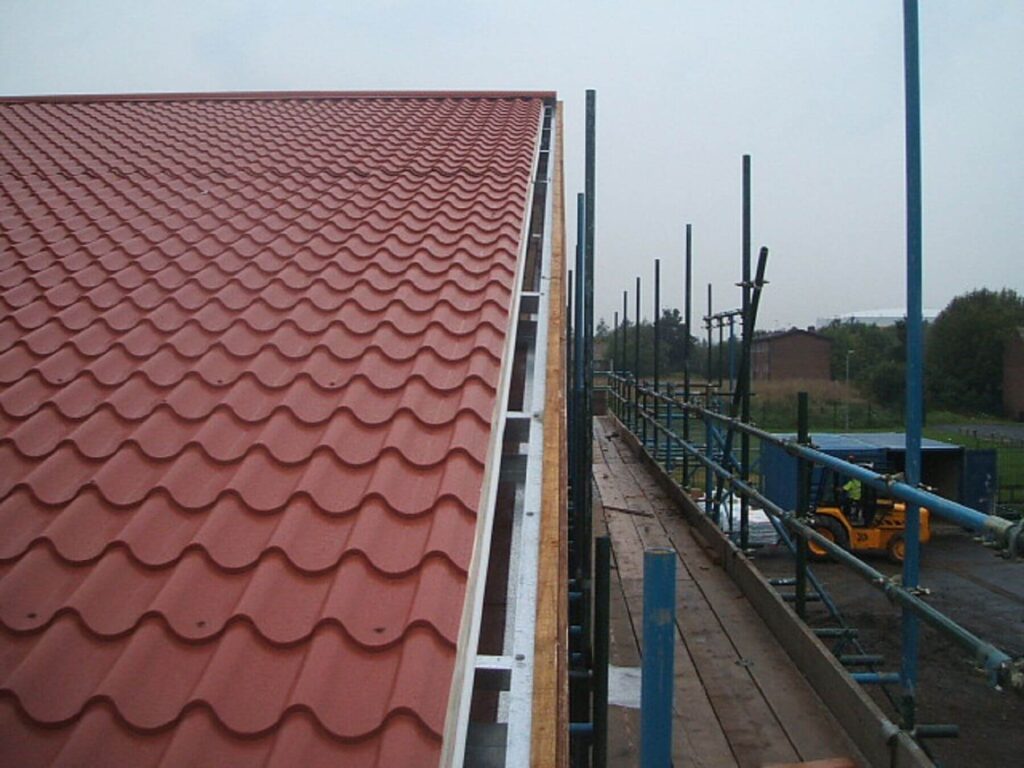 Metal tiles are more durable, lightweight, they do not crack or shrink, and it is more affordable during and after the installation. When you are looking for a roofing system you need to think about the benefits that are beyond the appearance the roof offers. With metal tiles, you cover almost every need and requirement you could have on your list:
Durability.
Longevity.
Low-cost.
Energy-efficient.
Good designs.
Variety in colors and profiles.
Easy installation and maintenance.
We know many people doubt about the aesthetical element due to the reputation some metal roofing systems have since most commercial buildings install them and do not worry about the design overall. But this is something we can fix by telling and showing you what you can obtain.
First, metal tiles can be painted of any color you want thanks to the nature of the materials you can use. Four options of metal include aluminum, zinc, steel, and copper. Some of them might not offer you a large variety of colors or designs, but you can always go for the one that meets your expectations. When it comes to tiles, steel is the most used one thanks to its property and options for coating and paint.
To summarize how you obtain the result you want in the design, it is all about how the tiles are made, the color and paints you choose, and the coating layers applied. Many people worry about how shiny a metal roof can be, which is the opposite of roofing systems like clay tiles and concrete. But when you apply the right coating or paint, you can get the finish you have always wanted. During all this process, you will have to make decisions but we are sure you will fall in love with the roof the more it goes forward.
Whenever you are going for this roofing option, make sure to find qualified, well-trained, and experienced roofers. Our company Metro Metal Roofing Company of Delray Beach offers the best professionals in the county that can help you to install your metal tile roof or deal with the future services you might need right now.
How does the installation take place?
Something common about clay, concrete, asphalt, and other tile roofs is that you have to place every tile one by one or only a few at the same time. Since you do not have problems dealing with metal ones due to their weight, the confidence about them being unable to crack or break, it is possible to place a panel that has every tile adhered to it. This makes the installation faster, easier, and cheaper for you. 
Keep in mind that the paint, coating, and any other addition you want to include is done before the installation. And to make sure we are going in the right away with it, our team will perform an inspection of the roof. Metal tiles can be installed over an existing roof or in new construction. For both options, we have to know every well the structure where we are working. 
However, placing the metal tile roof over an existing one indeed is what makes our team more time and effort. We know about the roof we are installing, but we need to make sure that your existing one will not give problems during and after the tiles are placed. In short, we need to know the condition of your roof to determine if it is possible or recommendable to do it. There is a lot of work involved in these projects, and when a first-installation is done poorly, it is only natural to have many problems with the roof in the future.
With us, you will not have to worry about the right installation and other services like repairs, maintenance, re-roofing, and more. This takes us to something you must know about us: we can handle any need and problem you have with your metal tile roof.
In a few words, we have talked about installing it so far, but this does not mean we are unable to help you with everything else. Therefore, if you already have one installed and just need some assistance to deal with some problems or perform maintenance, make sure to contact us. Our experts will be available all year round to help you anytime.
We are a company that takes very seriously every job and project, and yours will not be the exception to this. Also, we are aware that you probably have many questions about what needs to be done and how we operate, which is why we invite you to ask all of them and let our staff clear your doubts. We will not force you to hire our services just for a call, email, or visit.
Time to Replace Your Roof? We Can Help
---
Considering roofing replacement? When it comes to roofing projects, many homeowners rely on professionals to get the job done. At Metro Metal Roofing Company of Delray Beach, our specialists stick to all the industry standards when installing metal roofing on both residential and commercial properties. Therefore, you can be sure of getting a sturdy roof on top of your house. As a result, you can get the best services from our company in the following fields;
What Locations do we Serve?
---
Metro Metal Roofing Company of Delray Beach is a name you can trust and rely on. Our metal roofing services were limited in Delray Beach, FL when we started. But with time our company has expanded and is now serving over ten locations within Florida.
It shows how reliable we are. Here are some places within Florida, where you can access our world-class metal roofing services: –